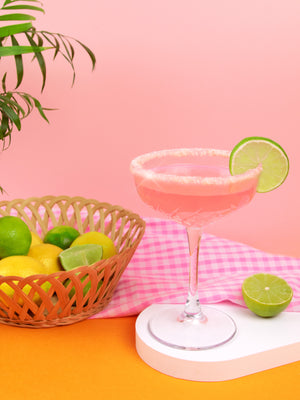 ***** An Award-Winning Cocktail!                                                                        

"A new classic"- Great Taste 2021

"The blend of ingredients add a layer of sophistication rarely associated with this genre"- Great Taste 2021


14.4% ABV- 750ml bottle - 7 serves
Guaranteed to hit the spot, this Margarita has been given a little twist with the addition of delicious pink grapefruit, agave and orange blossom.
The grapefruit gives an almost s flavour, and the agave gives added depth and structure. The result is a boozy, punchy, and citrusy margarita that's much more sophisticated than your average cocktail.
To serve:

Shake with ice (to dilute slightly) and serve straight up in a coupe. Alternatively, serve over crushed ice for a frozen version.
Best served with a salt-crusted rim around the glass, and a thinly sliced grapefruit wheel.
14.4% ABV 750 ml
7 servings per bottle
Music Venues Trust
Music and Cocktails! Was there ever a better fit?
After the success of our limited edition range, we've decided to make our funky labels a permanent feature.
Designed in collaboration with our good friend and Brighton artist @MCCashBack, our labels feature a range of iconic artists from the music industry.
We also donate a percentage of the profits to the Music Venues Trust; A charity that acts to protect, secure, and improves UK Grassroots music venues. 
Can you guess who we based this label on? 
Delivery:
Our couriers are Royal Mail and Parcelforce. 
Over 18's only. ID may be required upon delivery.
Nutritional Information:
Please note that we have gathered nutritional information from various sources. Where we couldn't get direct responses from the brands, we've had to source from the internet. We are working towards getting accredited nutritional information- and will keep you up to date.

Full Ingredients:
Tequila Blanco, Pink Grapefruit syrup*, Orange blossom water (organic), Agave syrup (organic), citric acid, water
Pink Grapefruit Syrup (Sugar-free with natural ingredients)*: Water, Pink Grapefruit Juice form Concentrate 14%, Bulking Agent: Polydextrose, Acid: Citric Acid, Natural Grapefruit Flavourings and Other Natural Flavourings, Thickener: Xanthan Gum, Colours: E163, E120, Sweeteners: Sucralose, Steviol Glucosides, Preservatives: Potassium Sorbate, Sodium Benzoate
Allergens: None
Whilst we do not use peanuts in any of the recipes, we cannot guarantee a nut-free or gluten-free environment. If you have any serious concerns or allergies, please contact us prior to ordering.