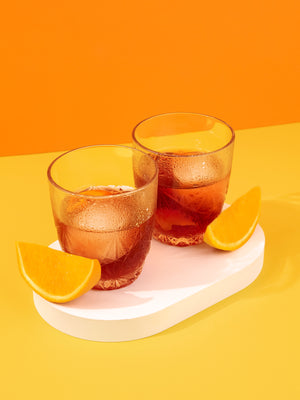 Our take on the classic Negroni but made with Aperol, meaning it's slightly less bitter but with all the classic negroni flavours.
This delicious Negroni is made with London dry gin, with Aperol and a beautiful deep red vermouth from our friends at 'In The Loop' based in Sussex.
It can be enjoyed with a single cube of ice OR topped with a dash of soda for a delightful aperitif. We like ours with a bowl of chilled olives to nibble on.
To serve:

In a tumbler or short glass, add a large cube of ice (or a sphere if you have one). The bigger the better so there is minimal dilution. Pour 85ml over the ice. Garnish with a thinly sliced lemon wheel or a queen olive. Sit back and enjoy.
ABV 19.9% 750ml
7-10 servings per bottle
Did you know?
All of the ingredients in this Negroni are vegan-friendly. No mean feat when so many vermouths and liqueurs out there use isinglass, a gelatin derived from the swim bladders of fish.
Music Venues Trust
Music and Cocktails! Was there ever a better fit?
After the success of our limited edition range, we've decided to make our funky labels a permanent feature.
Designed in collaboration with our good friend and Brighton artist @MCCashBack, our labels feature a range of iconic artists from the music industry.
We also donate a percentage of the profits to the Music Venues Trust; A charity that acts to protect, secure, and improves UK Grassroots music venues. 
Can you guess who we based this label on? 
Delivery:
Our couriers are Royal Mail and Parcelforce. 
Over 18's only. ID may be required upon delivery.
Nutritional Information:
Please note that we have gathered nutritional information from various sources. Where we couldn't get direct responses from the brands, we've had to source from the internet. We are working towards getting accredited nutritional information- and will keep you updated!

Ingredients
London dry gin, Aperol, 'In The Loop' red vermouth, orange bitters, salted caramel syrup (sugar-free), water.
ALLERGENS: SULPHITES
Whilst we do not use peanuts in any of the recipes, we cannot guarantee a nut-free or gluten-free environment. If you have any serious concerns or allergies, please contact us prior to ordering.