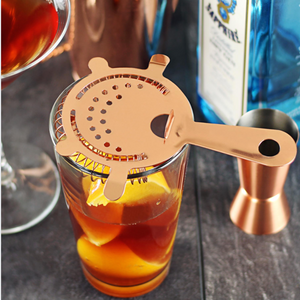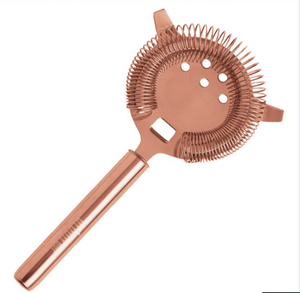 Perfectly designed for catching large chunks of ice and muddled ingredients like fruit or herbs, this Copper 2-prong Hawthorn strainer is the perfect addition to any home-bar.
Made from a durable stainless steel and finished in a highly polished copper plating, this cocktail strainer is ideal for adding a vintage touch to any home or professional bar.
Product Features:
• Hawthorn cocktail strainer                                                                                                  • Material: Stainless Steel with copper finish
• Handwash only
• Two prong design
• Thicker spring with tighter coils to remove ice and fruit from cocktails when pouring
• Material: Copper plated stainless steel - Polished finish
• Stops ice or fruit chunks pouring into your glass
• Durable lightweight construction
• Fits standard Professional Boston Tin or Glass
• On trend vintage copper finish
• Ideal for creating professional quality cocktails
Delivery:
Available for postage via Standard Delivery with Royal Mail. This should take an average of 2 working days.
LAST MINUTE?
If you need a last minute gift or an extra fast delivery please contact us via email and we will do our best to sort something out for you!